We're the Planet Pixies and all over the planet there are pixies like us that are losing their homes. But don't worry, you can help! Click on one of us to find out what you can do to help save our environment so that no more pixies have to lose their homes.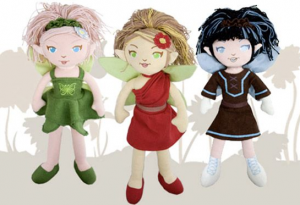 Is dedicated to providing children's toys that are safe, creative, fun and better for the environment. We are committed to providing high quality products using materials and processes that show respect for our planet all its inhabitants.
Our toys educate children, encourage them to use their imaginations and provide knowledge to help make eco-conscious decisions.
We pride ourselves on offering Eco-Friendly toys that retain quality without compromising affordability.
Others are encouraging the fathers to buy their wives 3rd year anniversary gift, on the other hand we encourage them to buy their daughters our quality and educational toys.
About Planet Pixies
Planet Pixies are made from organic cotton fabric and all natural materials colored using non-toxic water based dyes.
The cotton fabric is certified organic by the SKAL organic exchange 100 guideline control union certificate # CU CERT 809381
Pixie packaging is made from 100% post consumer recycled cardboard, and is 100% recyclable.
Pixies are produced and manufactured in Sri Lanka.