Facts About the Amazon Rainforest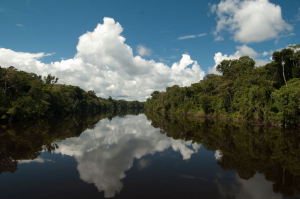 The Amazon Rainforest actually includes 9 countries? 60% of it is found in Brazil, but it is also in Peru, Columbia, Venezuela, Ecuador, Bolivia, Guyana, Suriname and French Guiana.
The Amazon represents over half the plane's remaining rainforests.
Cutting down or burning the trees in the Amazon (called "deforestation") threatens the whole planet because the amazon is the source of one fifth of the world's fresh water!
At the current rate of deforestation, it is estimated that 55% of the rainforest could be gone by the year 2030. That's more than half!
The planet loses 50 species ever day, almost 2 an hour due to tropical deforestation around the world.
The amazon is home to 1 in 10 of the known species on Earth.
One in five of all the birds in the world live in the Amazon!